SAN BERNARDINO MICROWAVE SOCIETY
founded in 1955
A NON-PROFIT TECHNICAL ORGANIZATION DEDICATED TO
THE ADVANCEMENT OF COMMUNICATIONS ABOVE 1 GHz.
W6IFE
Mailing Address: SBMS, 417 South Associated RD. # 146, Brea, CA 92821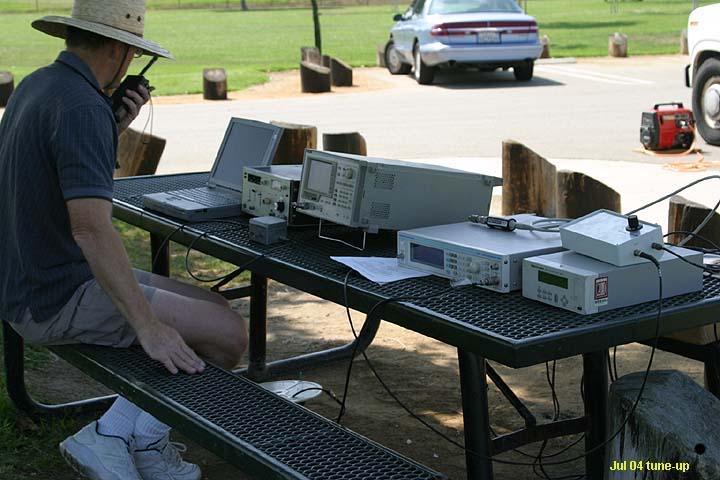 Karry Banke, N6IZW, at the SBMS annual tune up party.
---------o----------
The San Bernardino Microwave Society meets
the first Thursday of each month at 1900 Hours at the American Legion Hall
1024 Main Street Corona, CA.
---> Live SBMS Meetings can be viewed Here, <---
select "W6ATN streaming".
More about ATN
President - Chris Shoaff, N9RIN, 2911 Calle Heraldo, San Clemente, CA 92673, 949-388-3121, cshoaff@yahoo.com
Vice President - Charles E Swedblom, WA6EXV, PO BOX 605, Ridgecrest, CA 93555
Corresponding Secretary - Jeff Fort, KN6VR, 10245 White Rd, Phelan, CA 92371, 760-948-7227, jnjfort@verizon.net
Recording Secretary - Walt Clark, 824 Valley View, Fullerton, CA 92835, 714-882-9647, walterclark@roadrunner.com
Social Sec - Tsiza Major-Posner, KI6DBR, 909-837-8922, tiszamajor@aol.com
Treasurer - Dick Bremer, WB6DNX, 1664 Holly Street, Brea, CA 92821, 714-529-2800, rabremer@juno.com
Editor - Walt Clark, 824 Valley View, Fullerton, CA 92835, 714-882-9647, walterclark@roadrunner.com
ARRL Interface - Frank Kelly, WB6CWN, PO Box 1246, Thousand Oaks, CA 91358, 805 558-6199, fm.kelly@verizon.net
W6IFE License Trustee - Ed Munn, W6OYJ, 6255 Radcliffe Dr., San Diego, CA 92122, 858-453-4563, w6oyj@amsat.org
SBMS LAB Manager and SBMS Webmaster - Dave Glawson, WA6CGR, 1644 N. Wilmington Blvd., Wilmington, CA 90744, 310-977-0916, wa6cgr@ham-radio.com
SBMS WEB Page maintenance - Rein Smit, W6SZ, 8333 Pumalo, Alta Loma, CA 91701, 909-980-0489, w6sz@ham-radio.com
---