WA6EXV
---
Chuck has been one of the main-stays in microwave activity and pioneering in th US since 1955. We have all learned much from him! Chuck is the Northern end of the new North American 24 GHz distance record of 166 miles, set on July 5, 1997.

Recently he has been pretty active on 10 GHz EME (moon bounce). He was the first one in California to accomplish this feat. He also did 2304 EME several years ago.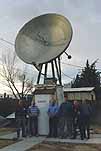 Here's a picture taken at Chuck's home in DM15 during an open house that was attended by many SBMS members.

Chuck next to his one of his terrestrial 10 GHz antennas. He also has built and operates a computer run microwave antenna range where many of us have had our antennas checked and plotted.
Another picture of the 10 foot EME dish.

and a shot of comet Hale-Bopp over Chuck's EME dish.

---
back to SBMS member pictures