N6XQ & XE2N6XQ
link to: CP1/N6XQ
---
Pictures of Jack (a.k.a."Yak", acquired that name on his XF1G trip) on several of his dozens of XE microwave DX-expeditions down into Baja California. We can all thank Jack for many of our grids on all bands from 50 MHz thru 10 GHz.
---
The view from DL29, El Rosario back towards Los Angeles & Southern California. It's about 200 miles South of the border.

---
Operating with XE2HWB "Bernardo" from DL54
Operating with Bernardo from DL27, San Carlos trying for an 821 mile shot on 10 GHz! Signals on 144 were ok at lower elevations but nada on x-band....next time. On Santa Ynez ridge (near Santa Barbara DM04) were WB6CWN, K6OW, WA6CGR, WB6YLI, WB6JBZ & N6CA trying.......digging......we don't get too many 800 mile 2 meter QSOs on the West coast other than KH6 so that part was exciting.

Jack & Bernardo aligning the 4 foot dish (below). Jack runs a 1db noise figure receiver, 15 Watts and a 6 footer (now) on 10 GHz!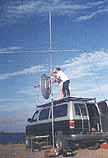 ---
DM10 site of many operations and home for the world famous 50 MHz beacon XE2UZL. Jack built the beacon for Walter some years back.

---
A shot of Walters old shack on Punta Baja in DM11 near Ensenada, Baja California. Many microwave & VHF QSOs were made from here in years past.

and an early 90s shot of Jack on one of the hilltops down in the DL27 area, Scammons Lagoon, Baja California, 500 miles South of Los Angeles. Jack was running some 613 mile contacts with N6CA near Santa Barbara on 3.4 & 5.7 Ghz.
---
back to SBMS pictures