W6IFE Newsletter
October 2004 Edition
President Chris Shoaff N9RIN 2911 Calle Heraldo San Clemente CA 92673 949-388-3121 cshoaff@netzero.net
Vice President Larry Johnston, K6HLH 16611 E Valeport Ave Lancaster, CA 93535 661-264-3126 ljohns@qnet.com
Recording Sec Mel Swanberg, WA6JBD 231 E Alessandro Blvd Riverside, CA 92508 909-369-6515 wa6jbd@verizon.net
Corresponding Sec Kurt Geitner, K6RRA1077 E Pacific Coast Hwy TMB142 Seal Beach, CA 90740 310-718-4910 k6rra@gte.net
Treasurer Dick Kolbly, K6HIJ 26335 Community Barstow, CA 92311 760-253-2477 dick@eventhorizons.com
Editor Bill Burns, WA6QYR 247 Rebel Rd Ridgecrest, CA 93555 760-375-8566 bburns@ridgecrest.ca.us
Webmaster Chip Angle, N6CA 25309 Andreo Lomita, CA 90717 310-539-5395 chip@anglelinear.com
ARRL Interface Frank Kelly, WB6CWN 1111 Rancho Conejo Blvd. #501 Newbury Park, CA 91320
805-499-8047 wb6cwn@version.net
W6IFE License Trustee Ed Munn, W6OYJ 6255 Radcliffe Dr. San Diego, CA 92122 858-453-4563
w6oyj@amsat.org.
At the 7 October SBMS Meeting we will be doing something. The SBMS meets at the American Legion Hall 1024 Main Street (south of the 91 freeway) in Corona, CA at 1900 hours local time on the first Thursday of each month. Check out the SBMS web site at http://www.ham-radio.com/sbms/.
SBMS meeting parking- We have become a great number of members at meetings. We park next to the church in the adjacent lot or on the street and or in the lot across the street. Across the street the sign on the building shows: 1025 Main Street. MAIN STREET BISTRO. The sign on the parking lot says: CLIN CHIROPRACTIC CARE Dick, WB6DNX
A reminder that the third Saturday of each month is Microwave Activity Day starting after the Pomona/ Cal Poly Swap meet through mid afternoon.
Last meeting- There was lots of discussion on where everyone was going for the ARRL 10 GHz and Up contest. Mel, WA6JBD was to post the plans on the SBMS reflector as new plans were sent to him. Mel got a big thanks for doing the planning emailing for the first half.
Dan Welch, W6DWF was our visitor from Anaheim and Jerry Gastil, K6DYD visited from San Diego. Welcome. 29 people present
Scheduling.
14-16 October 2004 Microwave Update in Texas
4 November TBD
2 December TBD
6 January 2005 TBD
Activity reported at the September SBMS meeting&emdash;Dick, WB6DNX worked the contest; Frank, WB6CWN had fun in the contest working folks with a horn antenna; Chuck, WA6EXV had vehicle problems on Corey, is testing a reflock assembly; Bill WA6QYR worked from Frazier and roved for 62 contacts; Jeff, KN6VR got stuck in the sand and had 3 tow truck get stuck too; Tony, KC6QHP had a one way 47 GHz contact, and had fun making 10 GHz mobile contacts; Dennis, WA6NIA had radio problems on Signal Hill; Peter, K6PTL is working on test equipment; John, KJ6HZ had marginal radio performance; Kurt, K6RRA roved; Pat, N6RMJ roved the central valley; Wayne, KH6WZ made a audio splitter to combine radio audios; Larry, KG6EG had fun roving with N6CA; Chip, N6CA roved with the Hawaii radio to prove it out and learned that a 48 inch dish is hard to rove with but the 30 inch is great; Jack, N6XQ came back from the Andes in SA and will be out in Mexico this time; Bob, WA6VHS had his tripod lock up; Dick, K6HIJ went to the EME conference and reported that RW3B is hearing his echoes off the moon at 47 GHz; Mike, W6YLZ had fun in Mexico last time and is returning; Chuck, N6EQ had his dish blow over; Ken, W6DTA had fun out and about; Jerry, K6DYD is working on a BIGGER system for next time; Gordon, WB6NOA had fun out; Robin, WA6CDR is getting a better LNA; Mel, WA6JBD had rig problems.
"Wants and Gots for sale"
Want WR75 transitions. 10 GHz mixer, WR90 and WR75 flanges, 10 GHz filter John KJ6HZ 909-683-1434
Want four to six runs of 7/8th inch hardline 100 ft each Mike W6YLZ 818-349-8525 (H) 310-423-3567(W)
Want WR90 waveguide Switch 28v Jeff KN6VR 760-948-7227 or 909-994-2232 or jlfort@raytheon.com
For Sale three Efratom M-100 Rubidium Osc with connectors $400 each Dennis WA6NIA 562-858-2885
---------------------------------------
Second half of the ARRL 10 GHz and Up contest -SBMS member data so far.
It was noted by Bill WA6QYR that a number of members went to far out places. Chip, N6CA went to Utah and roved on the way back. The Mexico crew had last minute changes in plans so only Ken, W6DTA and K6DYD went down. Storm Javier came up the Baja coast and another pattern came down from the north causing lots of wind in CA along with some rain on Sunday in part of the San Joaquin Valley (some played rain scatter with this). I don't think any one heard from the Mexico crew on Sunday.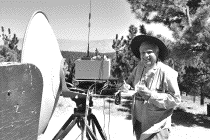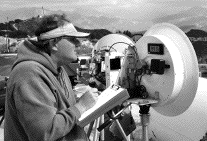 Paul, N6LL on Frazier DM04ms. Dennis, WA6NIA at Secret Site 51 DM04ti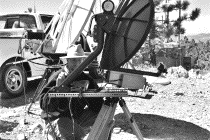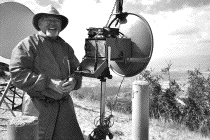 Jim, N9JIM on Frazier DM04ms WA6JDH at Secret Site 51 DM04ti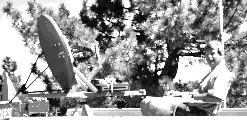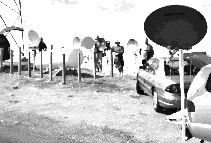 Jeff, KN6VR on Frazier DM04ms Wayne, KH6WZ; Dennis, WA6NIA; Dick, WA6JDH; David, N6TEB On SS51 DM04ti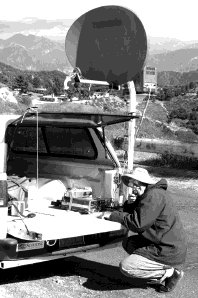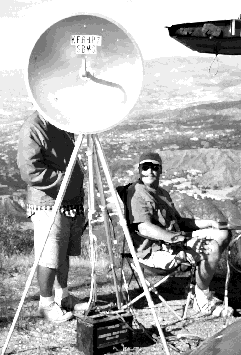 Bill, WA6QYR on Secret Site 51 Glenn, KE6HPZ on Secret Site 51
---------------------------------------
MICROWAVE UPDATE 2005
Chairman: Pat Coker, N6RMJ of SBMS
Planning Committee: Pat Coker, N6RMJ of SBMS
David Peters, KI6FF of WSWSS
Dennis Kidder, WA6NIA of SBMS
Presentations: Chip Angle, N6CA
Publicity: Wayne, KH6WZ
PRIZES: Dave Glawson, WA6CGR
Registration: Dick Kolbly, K6HIJ
Location: Cerritos Sheridan
List of Presentations:
SBMS 50 YEARS Dick Kolbly, K6HIJ
SBMS is now an ARRL affiliate club to allow ARRL to print 2005 proceedings. Wayne will have a flyer to pass around at the 2004 Update.
---------------------------------------
New Microwave DX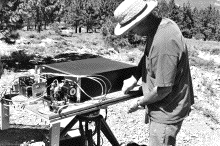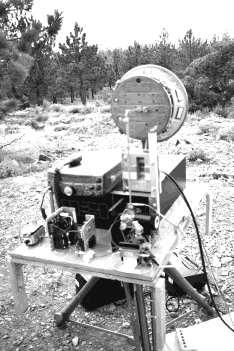 Gary, AD6FP with his 47 GHz rig on Frazier. The big box is a 47 GHz TWT.
This past Sunday afternoon during the "10 GHz and Up Cumulative Contest" W6QI and AD6FP completed a 47 GHz contact over a 290 Km distance to set a new world record. W6QI operated from Shuteye Peak DM07GI just south of Yosemite and AD6FP operated from Frazier Mountain DM04MS north of Los Angeles. W6QI had to brave 30-degree temperatures and snow while modifying the radio in order to complete the contact. Signal margins were >40 db on the W6QI end and about 8 db on the AD6FP end. The contact was completed using a combination of narrow band FM and CW. The station details are as follows:
W6QI: 36" Cassegrain dish, 10dbm xmit, 8 db nf, ocxo locked
AD6FP: 12" splash plate dish, 45 dbm xmit, 4 db nf, Rb locked
The weather conditions were quite unusual for September with scattered rain showers in the central California valley between Shuteye and Frazier. More details to follow. Frank W6QI Gary AD6FP
73's Bill
The next few pages are from the mimeographed 1957 SBMS Handbook. More will follow next month.