W6IFE Newsletter
President Dick Bremer WB6DNX 1664 Holley St Brea CA 92621, 714-529-2800, rabremer@sbcglobal.net
VP Chris Shoaff N9RIN 2911 Calle Heraldo San Clemente CA 92673, 949-388-3121, cshoaff@netzero.net
Recording Sec Mel Swanberg, WA6JBD 231 E Alessandro Blvd Riverside, CA 92508, 909-369-6515, swanberg@pe.net
Corresponding Sec Kurt Geitner, K6RRA1077 E Pacific Coast Hwy #142 Seal Beach, CA 90740, 310-718-4910, k6rra@gte.net
Treasurer Dick Kolbly, K6HIJ 26335 Community Barstow, CA 92311, 760-253-2477, rkolbly@compuserve.com
Editor Bill Burns, WA6QYR 247 Rebel Rd Ridgecrest, CA 93555, 760-375-8566, bburns@ridgecrest.ca.us
Webmaster Chip Angle, N6CA 25309 Andreo Lomita, CA 90717, 310-539-5395, chip@anglelinear.com
ARRL Interface Frank Kelly, WB6CWN 1111 Rancho Conejo Blvd. #501 Newbury Park, CA 91320, 805-499-8047, fk@event1.com
W6IFE License Trustee Ed Munn, W6OYJ 6255 Radcliffe Dr. San Diego, CA 92122, 858-453-4563, edmunn@compuserve.com
At the 6 May 2004 meeting of the SBMS, Dennis, WA6NIA is going to report on the trip to Owens Valley Radio Observatory and conference and the status of the proposal SBMS made to help with education of school children to EME and microwaves. The SBMS meets at the American Legion Hall 1024 Main Street (south of the 91 freeway) in Corona, CA at 1900 hours local time on the first Thursday of each month. Check out the SBMS web site at http://www.ham-radio.com/sbms/.
SBMS meeting parking- We have become a great number of members at meetings. We park next to the church in the adjacent lot or on the street and or in the lot across the street. Across the street the sign on the building shows: 1025 Main Street. MAIN STREET BISTRO. The sign on the parking lot says: CLIN CHIROPRACTIC CARE Dick, WB6DNX
Elections- nominations for 2004-5 officers made at the April meeting were: President-Chris, N9RIN and VP Pat, N6RMJ. The rest of the officers were nominated to continue. Nominations will again be opened at the May meeting and elections held.
Reminder- 1-2 May SBMS 2 GHz and Up contest.
A reminder that the third Saturday of each month is Microwave Activity Day starting after the Pomona/ Cal Poly Swap meet through mid afternoon.
Last meeting_ On the Topic of "The Project" for Owens Valley Radio Observatory, The Bishop Amateur Radio Club wants to help in logistics. Dick, K6HIJ will be building the antennas for 432, 129 and 10 GHz. Dennis, WA6NIA is to work the schedules. Doug is the project headman. Chuck, WA6EXV is building the other hardware. On the Microwave Update 2005 Pat N6RMJ is the leader and Dick, K6HIJ is the registration person. Initially they are looking at the Sheridan in Cerritos, CA for the site. The operation needs a list of surplus electronic hardware places to visit on Thursday tour. The list needs to include where the store is located and hours of operation and what types of materials are available. Bill, WA6QYR is collecting the list of stores. Judy, KC6UTF has volunteered for the XYL/ Spouse tours.
Scheduling.
3 June SBMS meeting talk TBD
June tune up party
12-14 June ARRL June VHF QSO Party
26-27 June ARRL Field Day
1 July SBMS meeting TBD
7-8 August ARRL UHF Contest
21-22 August ARRL 10 GHz and Up Contest
11-12 September ARRL September VHF QSO Party
18-19 September ARRL 10 GHz and Up Contest
14-16 October 2004 Microwave Update in Texas
"Wants and Gots for sale"
2 Rack Cabinets Free for pick up - call to make arrangement. Both about 6 ft high and accept 19" panels. See photo at the bottom of http://www.hamtv.com/Specials.html Tom O'Hara, Arcadia 626-447-4565
Want 24 GHz PA/waveguide switch Bob, WA6UNS 310-534-8851.
Want 24 GHz Waveguide switch and 10 GHZ 1-3 watt amp Mike W6YLZ 818-349-8525
Want 10 GHz 1-4 watt RF transistors Chris N9RIN 949-388-3121
For Free- 10x6 ft orange peal antenna, two 4 ft dishes and one 6 ft dishes. Up pick up at Chuck WA6EXV 760-377-4972
Activity reported at the March SBMS meeting were
2005 Microwave Update Planning
Surplus Store tour-
It was recommended at the April SBMS meeting that we have a surplus store tour during the Thursday before Microwave Update. Members were to send the info about their favorite store to Bill, WA6QYR.
I go to these surplus and new places to buy "stuff":
JK Electronics 6395 Westminster Blvd Westminster, CA 92683 Phone: 714-890-4001 Fax: 714-892-6175 www.jkelectronics.com. An electronic parts distributor for new components, including surface mount. Also surplus components and assemblies. Note: Nothing "microwave," but a good place for audio and other similar components.
Industrial Liquidators 14611 Hawthorne Blvd Lawndale, CA 90260 Phone: 310-644-2252 Two locations in San Diego (858-278-3455 and 858-658-9207) and one in San Marcos (760-599-0674) This applies to the one in Lawndale; I have not visited the other places: Used test instruments, waveguide and waveguide components, hydraulics, motors, chassis materials such as sheet and cast metal, specialty tools. Not too far from the TRW Swap Meet.
Wayne, KH6WZ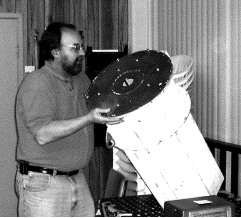 Dennis, WA6NIA was showing off the feed assembly from the Owens Valley Radio Observatory big dish that SBMS "Project" will be reconfiguring for Amateur Service EME.
The San Bernardino Microwave Society is a technical amateur radio club affiliated with the ARRL having a membership of over 90 amateurs from Hawaii and Alaska to the east coast and beyond. Dues are $15 per year, which includes a badge and monthly newsletter. Your mail label indicates your call followed by when your dues are due. Dues can be sent to the treasurer as listed under the banner on the front page. If you have material you would like in the newsletter please send it to Bill WA6QYR at 247 Rebel Road Ridgecrest, CA 93555, bburns@ridgecrest.ca.us, or phone 760-375-8566. The newsletter is generated about the 15th of the month and put into the mail at least the week prior to the meeting. This is your newsletter. SBMS Newsletter material can be copied as long as SBMS is identified as source.
San Bernardino Microwave Society newsletter
247 Rebel Road
Ridgecrest, CA
93555
USA