W6IFE Newsletter
President Dick Bremer WB6DNX 1664 Holley St Brea CA 92621, 714-529-2800, rabremer@sbcglobal.net
VP Chris Shoaff N9RIN 2911 Calle Heraldo San Clemente CA 92673, 949-388-3121, cshoaff@netzero.net
Recording Sec Mel Swanberg, WA6JBD 231 E Alessandro Blvd Riverside, CA 92508, 909-369-6515, swanberg@pe.net
Corresponding Sec Kurt Geitner, K6RRA1077 E Pacific Coast Hwy #142 Seal Beach, CA 90740, 310-718-4910, k6rra@gte.net
Treasurer Dick Kolbly, K6HIJ 26335 Community Barstow, CA 92311, 760-253-2477, rkolbly@compuserve.com
Editor Bill Burns, WA6QYR 247 Rebel Rd Ridgecrest, CA 93555, 760-375-8566, bburns@ridgecrest.ca.us
Webmaster Chip Angle, N6CA 25309 Andreo Lomita, CA 90717, 310-539-5395, chip@anglelinear.com
ARRL Interface Frank Kelly, WB6CWN 1111 Rancho Conejo Blvd. #501 Newbury Park, CA 91320, 805-499-8047, fk@event1.com
W6IFE License Trustee Ed Munn, W6OYJ 6255 Radcliffe Dr. San Diego, CA 92122, 858-453-4563, edmunn@compuserve.com
At the 6 November 2003 meeting of the SBMS, Dick, K6HIJ will talk about using older test equipment to make microwave measurements. The SBMS meets at the American Legion Hall 1024 Main Street (south of the 91 freeway) in Corona, CA at 1900 hours local time on the first Thursday of each month. Check out the SBMS web site at http://www.ham-radio.com/sbms/.
Last Meeting-Wayne, KH6WZ provided us with an education about writing articles for magazines. His handouts indicated some of the dos and don'ts of writing for ham publications. Wayne urged us all to spread our knowledge of specialty areas of the hobby around to help others get on the air. Thanks Wayne. Welcome to new members; Walter Davidson, KC6TFS of Riverside CA and to Robert Gordon, WA6JGW of Fountain Valley CA. Doug, K6JEY was presented with the dreaded "Lifetime Soldering Prohibited Award" but is allowed to use mechanical tools in future projects. Next month members are to bring suggested dates for the SBMS 2 GHz and Up contest. March was found to be a poor time to conduct it. 25 people present.
Scheduling:
4 December Dave, WA6CGR "Places in Southern California to contesting from".
8 January (note first Thursday is 1 Jan) Mike Collis, WA6SVT "ATV on microwave"
5 February John Hoot, "Astronomy and microwaves".
"Wants and Gots for sale"
Want WR-42 waveguide relay Dave WA6CGR 909-318-5154.
Want waveguide relay for 24 GHz, and a 24 GHz isolator- Miguel W6YLZ 818-349-8525
Want- noise source- John KJ6HZ 909-683-1434
Want MACOM 10 GHz dish N6RMJ 661-264-1978
Want long straight pieces of WR-90 Wayne KH6WZ 714-846-1230
Want 24 or 30 inch dish Larry KG6EG 714-846-6985
For Sale- 10 GHz system -DEM and Qualcomm parts plus Radio Shack HT-100 IF radio. 2 dB NF about 1 w output. $650 Ken W6DTA 818-848-9059
For Sale a Henry 2004 440 Mc linear amp that looks like it was never out of the box. I think it will do 2 KW if I'm not mistaken but I don't have the manual in front of me. This is a desktop monster like most Henry products; very clean construction, about 90 pounds so shipping on this wouldn't be cheap, however. Let me know if you have any questions. Walt Morrison Wncmorrison@aol.com
Activity reported at the September SBMS meeting-Dick, WB6DNX had fun in the contest; Chris, N9RIN had fun in the contest; Chip, N6CA had 292 QSO's and has a narrow 10,386 filter that lets one use 28 MHz IF radio, has a hall effect monitor to check to see that the waveguide relay really switched and has been collecting stuff for the Hawaiian rig; Larry, K6HLH had fun in the contest with 53 different calls and had a good time at Microwave Update; Mike, W6YLZ had trouble in the contest keeping radios and TWT's dry, collected 329 qso's and 58 calls; Dave WA6CGR had lots of fun at the ARRL SW convention doing talks; made a 1041 km contact on 10 GHz during the contest and had 280 qso's; Pat, N6RMJ did the ARRL conference, the UHF contest , Microwave Update and had had fun in the contest with 298 qso's; N7EME found his 1152 MHz PLL problem in the Maximum chip harmonics; Jeff, KN6VR still building house; K6JEY did the contest and had a 85 mile 24 GHz contact to N6IZW; Chuck, N6EQ had a fun time in the contest; Larry, KG6EG roved in his first contest; Jack, N6XQ had 290 qso's from northern Mexico; Kurt, K6RRA logged for KJ6HZ during the contest; KJ6HZ had fun roving in the contest; Glenn, KE6HPZ had rig problems during the contest but managed 330 qso's; KH6WZ operated only during the second week end but managed 126 qso's; Scott, K0FMC in his first ham contest had 110 qso's; Dennis, WA6NIA doubled his last years contest score; Ken, W6DTA had a great time in Mexico with 590 qso's; Bill, WA6QYR worked on his 24 GHz Pcom unit, went to Microwave Update and had bunch QSOs in the contest; Chuck, WA6EXV had 4 qso's on the first weekend being stuck at home, and had fun learning to operate the DSP-10 in the second weekend; K6VC did the ARRL convention and RACES ATV work for fires in mountains; Mel, WA6JBD had fun in the contest and found a Stratium one rubidium GPS standard on ebay; Chris, K6HGW had fun in the contest; Matt, W6KGB had fun in this his first contest for an 18 year old and hopes more youth get involved.
ARRL SW Division Conference was reviewed in the November 2003 issue of World Radio magazine. SBMS folks presenting at the Convention were Dennis Kidder, WA6NIA "Emergency Communications Work Shop": Gordon West, WB6NOA "Pass the ham, Please", "Weak Signals are Horizontal" and "Live on Microwaves"; Pat Coker, N6RMJ "Introduction to Weak Signal work for VHF and Up" and "Introduction to Digital Modes for Weak Signal Work on VHF and UP": Dave Glawson, WA6CGR "Modern Microwave Demonstration"; and Mike Collis, WA6SVT "Beginners ATV Workshop"; and "Advanced ATV workshop".
73's Bill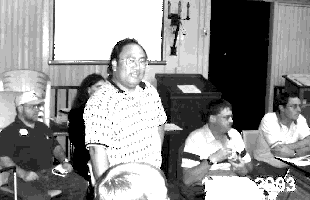 (above) Wayne, KH6WZ our speaker at the October SBMS meeting who told us about the advantages of writing articles for the amateur radio publications.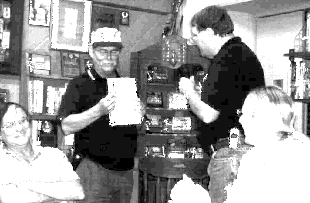 (above) Doug, K6JEY left receiving the dreaded "Lifetime Soldering Prohibited Award" from it's originator Dave, WA6CGR during the October 2003 SBMS meeting.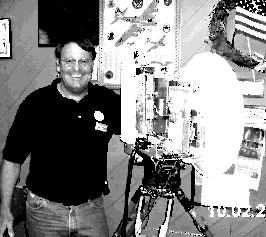 (above) Dave, WA6CGR with his 40 watt 10 GHz rig which he used during the last contest. There are some mysterious red glowing light effects that make one wonder if they are standing too close when Dave is transmitting in the evening hours.
The San Bernardino Microwave Society is a technical amateur radio club affiliated with the ARRL having a membership of over 90 amateurs from Hawaii and Alaska to the east coast and beyond. Dues are $15 per year, which includes a badge and monthly newsletter. Your mail label indicates your call followed by when your dues are due. Dues can be sent to the treasurer as listed under the banner on the front page. If you have material you would like in the newsletter please send it to Bill WA6QYR at 247 Rebel Road Ridgecrest, CA 93555, bburns@ridgecrest.ca.us, or phone 760-375-8566. The newsletter is generated about the 15th of the month and put into the mail at least the week prior to the meeting. This is your newsletter. SBMS Newsletter material can be copied as long as SBMS is identified as source.
San Bernardino Microwave Society newsletter
247 Rebel Road
Ridgecrest, CA
93555
USA