W6IFE Newsletter
President: Doug Millar, K6JEY 2791 Cedar Ave Long Beach, CA 90806 562-424-3737 dougnhelen@moonlink.net
Vice President: Dick Bremer, WB6DNX 1664 Holly St. Brea, CA 92621 714-529-2800 rabremer@juno.com
Recording Sec:Mel Swanberg, WA6JBD 231 E Alessandro Blvd Riverside, CA 92508 909-369-6515 swanberg@pe.net
Corresponding Sec: Kurt Geitner, K6RRA 213 Main St. #5 Seal Beach, CA 90740 310-718-4910 k6rra@gte.net
Treasurer: Dick Kolbly, K6HIJ 26335 Community Barstow, CA 92311 760-253-2477 rkolbly@compuserve.com
Editor: Bill Burns, WA6QYR 247 Rebel Rd Ridgecrest, CA 93555 760-375-8566 bburns@ridgecrest.ca.us
Webmaster Chip Angle, N6CA
ARRL Interface Frank Kelly, WB6CWN 1111 Rancho Conejo Blvd. #501 Newbury Park, CA 91320
805-499-8047 fk@event1.com
FCC Interface Dave Laag, K6OW 11614 Indian St. Moreno Valley, CA 92557 909-924-1517
W6IFE License Trustee Ed Munn, W6OYJ 6255 Radcliffe Dr. San Diego, CA 92122 619-453-4563
edmunn@compuserve.com
The 4 October 2001 meeting of the SBMS will be some pictures and information of interest from the 2001 Microwave Update. The SBMS meets at the American Legion Hall 1024 Main Street (south of the 91 freeway) in Corona, CA at 1900 hours local time on the first Thursday of each month. Check out the SBMS web site at http://www.ham-radio.com/sbms/.
Last meeting Dennis WA6NIA of Long Beach, Richard, WW7D of Mission Viejo and John, KD6IOX of Temecula visited the meeting. Welcome. We had lots of talk and stories about the August weekend of the 10 GHz contest along with some lessons learned. Dave, WA6CGR reported finding a TIM9010L device that was to give 7 dB gain at 10 GHz with 2 w in and 15 w out for $150, more later. Ken, WB6DTA talked about combining Qualcomm amplifier devices to get more power out.
Prez Sez- I Hope all is well with you and your families. By the time you read this we will have had the second weekend of the 10 GHz and Up contest and the Microwave Update in San Jose. The second weekend was very active by all reports. The Update is shaping up to be quite an event. We will have a complete report of both events at the next meeting
This against a background of world events that we will have to wait to see. In reference to those events, I think that what we do becomes more important. According to our charter as radio hams we are to provide a "pool of trained operators". SBMS members are certainly that and more. I hope our skills are not needed in that capacity. In the meantime I think we should continue with our activities and goals for these reasons and for the reasons that have always led us on.
Speaking of that, on the 20th there was news that a number of stations worked W1LP/MM on 10 GHz and that the North American record was broken several times. We will have a complete report at the meeting. Meantime check the SBMS web site and the reflector for the latest news. Doug
Frank has done it again......
WB6CWN worked W1LP/mm at around 797 miles (!) this afternoon Sept 20, 2045z (approx) on 10368.100 MHz to reclaim his record from N6CA who worked Clint at 712 miles (hi) a little earlier in the day. Clint is steaming south towards Panama on his ship. Clint is running a 20 dbi horn and 1 watt. Frank is running 10 watts to a four-foot dish. Chip runs 2 watts to a 2-foot dish and has some recordings of his contact, which will be up on the SBMS web site shortly. Exciting stuff working that far on x-band and this coastal ducting is great. There may more contacts this evening. Clint has been hearing the Frazier x-band beacon today at over 750 miles as well. 73 Chip N6CA
Scheduling.
1 November Frank Kelly on "PLL Local Oscillator Design Notes"
6 December Tentative: Practical Radio Astronomy at Microwave Frequencies.
3 January Chip N6CA: Dish Evaluation with a Laser Pointer
February-- 24 GHz status review. Presentation by various members on the status of their 24 GHz stations. Frequency and power measurement test set-ups will be available for member's radios.
Banquet at the Guasti Cafe. With white elephant exchange and door prizes! (And good food)
March-- Noise Figure seminar- review of techniques with testing available through 24 GHz.
Activity reported at the 6 September meeting- Chris, N9RIN had built an IF switch with 26 dB attenuation and 0.5 dB rec attenuation; John, KJ6HZ worked on a synthesizer and multiplier off the San Diego web page; Eric KD6GLP is back from Florida; Joe, K6JMA demonstrated his 10 GHz rig with FT817 IF radio; Dick, K6HIJ worked on his measuring equipment, came up with a way to build WR-42 flanges, and found that commercial WR-42 waveguide relays have lossy materials inside and looser tolerances than his constructed switch so is learning how to install materials in the switch; Sam, K6VLM built a 24 GHz receiver out of Qualcomm parts; Ken, WB6DTA worked on WSWSS Conference materials, his Qualcomm rig, and has 5 grids from his home QTH; Bob, W6SYA has a 10 and 24 GHz wideband loaner rig; Frank, WB6CWN has been tuning up his rig and glad to see more activity on bands; Dave, WA6CGR working with some kids on electronics (SUPER ed); Dick, WB6DNX has some 24 GHz parts from NOCA and has receiving modules working; Chuck, WA6EXV reworking 10 GHz gear, working on the 2304 MHz beacon and the transverter with Sam; Bill, WA6QYR went to the National Boy Scout Jamboree where in the Radio Merit Badge booth had 783 Scouts start the badge and a record 501 complete it thanks to the help of the K2BSA Ham-Scouters;
Notes from the second half of the 10 GHz and Up Cumulative Contest- The liaison frequencies had amateurs from across Arizona and up and down California communicating and setting up 10 GHz attempts across some long haul distances. It would appear that Arizona has quite a number of microwavers with gear on the air. Several made contacts with California microwavers during the contest. Several long distance 24 GHz attempts were made with narrow band rigs. Conditions were up and down both days. Thunderstorms over Arizona both helped and hurt attempts. Lots of new calls on the air, so interest in the microwave bands is up. Several web sites have pictures up from the first weekend. Super to see all the activity. Bill, WA6QYR
Wants and Gots (for sale)
Palomare RX Noise Bridge for sale, Doug K6JEY 562-427-3737.
TS-790A 2m-1200 all mode Transceiver, DIWAW 2 mtr amp 160w with preamp, RF Concepts RFC4-310 432 100w ssb amp with preamp- Sam K6VLM 714-523-0537
Want WR-90 to N transition Miguel W6YLZ 818-708-1629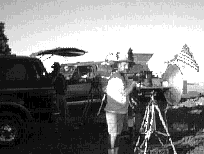 During the September 2001 second half of the 10 GHz and Up cumulative contest, Miguel, W6YLZ had his flag on the 10 GHz rig while at Heaps Peak, DM14kf. On Sunday Miguel moved to Frazier Peak for even more contacts. Photo WA6QYR.
Here is Dave, WA6CGR's 24 GHz narrow band rig at Heaps Peak, DM14kf while trying to work Chuck, WA6EXV on Cory Peak, DM08pk. Dave has a nice compact rig here with multimode HF transceiver IF radio. Dave turned rover after his visit to Heaps. He ventured north through the upper Mojave Desert with many stops on hill tops for more contacts. Photo WA6QYR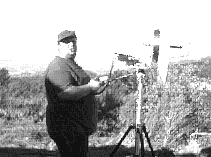 Chuck, N6EQ was on Heaps Peak, DM14kf during the second weekend of the contest to learn more about working distance stations. He had a nice 10 GHz rig with European parts and a 2 mtr multimode IF radio. Chuck made lots of contacts while on the hill. The second day he moved to Diamond Bar hill top for more fun. Photo WA6QYR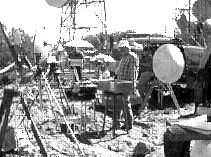 Part of the gang on Heaps Peak, DM14kf during the second weekend of the 10 GHz and Up Cumulative contest. In the fore ground is Dick, WB6DNX with his 10 and 24 GHz rigs. Further back are Dave, WA6CGR; Miguel, W6YLZ; and Chuck, N6EQ. Photo by Bill, WA6QYR.
The San Bernardino Microwave Society is a technical amateur radio club affiliated with the ARRL having a membership of over 90 amateurs from Hawaii and Alaska to the east coast. Dues are $15 per year, which includes a badge and monthly newsletter. Your mail label indicates your call followed by when your dues are due. Dues can be sent to the treasurer as listed under the banner on the front page. If you have material you would like in the newsletter please send it to Bill WA6QYR at 247 Rebel Road Ridgecrest, CA 93555, bburns@ridgecrest.ca.us, or phone 760-375-8566. The newsletter is generated about the 15th of the month and put into the mail at least the week prior to the meeting. This is your newsletter. SBMS Newsletter material can be copied as long as SBMS is identified as source.
San Bernardino Microwave Society newsletter
247 Rebel Road
Ridgecrest, CA
93555
USA
73's Bill