W6IFE Newsletter
President Jeff Fort, KN6VR 2019 Hunter Rd Chino Hills, CA 91709 714-577-0045 jlfort@west.raytheon.com
VP Dick Bremer, WB6DNX 1664 Holly St. Brea, CA 92621 714-529-2800 rabremer@juno.com
Recording Sec Mel Swanberg, WA6JBD 231 E Alessandro Blvd Riverside, CA 92508 909-369-6515 swanberg@pe.net
Corresponding Sec Kurt Geitner, K6RRA 213 Main St. #5 Seal Beach, CA 90740 310-718-4910 k6rra@gte.net
Treasurer Dick Kolbly, K6HIJ 26335 Community Barstow, CA 92311 760-253-2477 rkolbly@compuserve.com
Editor Bill Burns, WA6QYR 247 Rebel Rd Ridgecrest, CA 93555 760-375-8566 bburns@ridgecrest.ca.us
ARRL Interface Frank Kelly, WB6CWN 1111 Rancho Conejo Blvd. #501 Newbury Park, CA 91320
805-499-8047 fk@event1.com
FCC Interface Dave Laag, K6OW 11614 Indian St. Moreno Valley, CA 92557 909-924-1517
W6IFE License Trustee Ed Munn, W6OYJ 6255 Radcliffe Dr. San Diego, CA 92122 619-453-4563
edmunn@compuserve.com
The 3 February 2000 meeting of the SBMS will have John Stephensen, KD6OZH will talk about his article on "A Stable, Low-Noise Crystal Oscillator for Microwave and Millimeter-Wave Transverters" in the Nov./ Dec. 1999 issue of QEX and some updates. The SBMS meets at the American Legion Hall 1024 Main Street (south of the 91 freeway) in Corona, CA at 1900 hours local time on the first Thursday of each month. Check out the SBMS web site at http://www.ham-radio.com/sbms/.
Last meeting -Ed Munn, W6OYJ talked about the various Qualcomm synthesizer boards and how to program them. This is information Ed had presented at the 1999 Microwave Update in Texas. You can find this data on the San Diego Microwave Group webpage. Look to the SBMS webpage listed above and find the link to the San Diego site. Kerry Banke N6IZW talked about the 10 GHz transverter made from modified Qualcomm boards and several other projects he spoke about at the 1999 Microwave Update. Welcome to new members Alicia Salazar, KF6WMX of San Bernardino and Ed Cole, AL7EB (ex K8MWA) of Nikiski, AK. Ed was a member of SBMS from 1970 to 1979. Kerry, N6IZW and Doug, K6JEY had equipment for sale and some giveaways. 23 present.
Scheduling-
2 Mar. Gordon Huff, WA6FMX, solid-state T/R circuits.
4 Mar. SBMS Dinner at
6 Apr. TBD
4 May TBD
10-12 June VHF QSO Party
24-25 June Field Day
5-6 Aug. ARRL UHF Contest
19-20 Aug. 10 GHz and Up Cumulative Contest- first half
9-11 Sep. Sept. VHF QSO Party
16-17 Sep. 10 GHz and Up Cumulative Contest- second half
SBMS Dinner- The annual dinner is being planned by president Jeff Fort for 4 March at a restaurant in Victorville. Social will start at 6 p.m. followed by dinner at 7 p.m. Details to be discussed at the February meeting and printed in the March newsletter.
Wants and Gots for Sale
Want two 4CX400A 's Bob Gardner W6SYA 818-248-3683
Want WR-42 90-degree twist and waveguide switch Dave WA6CGR 909-318-5154.
Want a heavy-duty tripod for new dish, Mel WA6JBD 909-369-6515
Activity reported at the December 1999 SBMS meeting- Dick, WB6DNX was looking for Sam's beacon on Santiago Pk operating on 10368.011 MHz, Chuck, WA6EXV is finishing up his beefing up of the motor drive to his 10 ft EME dish, played with his white mushroom GPS receiver and the Delorme TopoUSA package as well as his GPS waypoint pointing angle program; Ed, W6OYJ is updating the San Diego Microwave Group webpage with the articles from Microwave Update '99; Mel, WA6JBD remodeled his 24 GHz feed in his new 2 ft dish and put his gunnplexer in a temp controlled box; Paul, KH6HME was on the mainland for a couple of weeks and has all the beacons running except for the 10 GHz beacon which is at N6CA's for overhaul; Doug, K6JEY has a new job and has his 75w 1296 amplifier running; Larry, K6HLH is finally moving back into his house following 9 months of modifications due to earthquake damage; Dave, WA6CGR had his new 5.6 GHz transverter finished and available to show off; Jeff, KN6VR has his 1296 12 ft dish ready to put up, but is looking for tall helpers.
E-mail address updates- Jim, K6ML jepaq@home.com; Kurt, K6RRA k6rra@gte.net.
QST de W1AW ARRL Bulletin 1 ARLB001 From ARRL Headquarters Newington CT January 11, 2000 ARLB001 Work begun to revise Amateur Radio examinationsThe nation's Volunteer Examiner Coordinators, including the ARRL-VEC, now are under the gun to meet the April 15 implementation date of the FCC's recently announced Amateur Radio restructuring plan. The FCC's momentous action on December 30, 1999, reduced the number of license classes to three and established 5 WPM as the sole Morse code examination element. More than half of those responding to an informal poll on the ARRL Web site indicate they plan to upgrade during 2000. Brisk demand for study materials suggests that many amateurs will be hitting the books in the coming weeks. After April 15, 2000, the FCC will only issue Technician, General, and Amateur Extra class licenses. Novice and Advanced licensees will retain current operating privileges and may renew indefinitely. The FCC's new licensing scheme simplifies and shortens the upgrade path from the ground floor through Amateur Extra. There are fewer written examinations and total questions. Those wishing HF privileges also would need to pass the single 5 WPM code test. The FCC has left it in the hands of VECs to determine the specific mix and makeup of written examination questions. Current Amateur Radio study materials remain valid at least until the new rules become effective in April. ARRL-VEC Manager Bart Jahnke, W9JJ, says the NCVEC Question Pool Committee has been meeting by telephone and e-mail to get the updating process under way. Jahnke said the revised question pools will be out ''well in advance'' of April 15. The ARRL Board of Directors is expected to review the FCC Report and Order and discuss its implications when it meets January 21-22 in Memphis. Details of the restructuring plan and a list of frequently asked questions are available on the ARRL Web site, http://www.arrl.org.
ARRL Letter #2 of January 14, 2000 indicates that ARRL has purchased Communications Quarterly magazine from CQ Communications Inc. and will merge the publication with the Leagues technical journal QEX. The new title will be "QEX, incorporating Communications Quarterly".
In another corner, CQ Communications Inc. as of January 2000 has combined CQ VHF magazine into CQ Amateur Radio magazine.
Note that newsletter editor Bill, WA6QYR trades newsletters with several other VHF and up clubs and brings them to meetings where they are routed. Please return the newsletters to Bill for keeping. Members wishing to borrow them for coping are invited to do that if the newsletters get returned to Bill.
73's Bill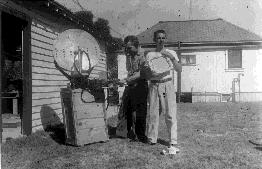 Tommy, W6IFE and Ed, W6OYJ working on a 3.3 GHz rig back in the 1950's. Photo via George, K6MBL files
San Bernardino Microwave Society is a technical amateur radio club affiliated with the ARRL having a membership of over 90 amateurs from Hawaii and Alaska to the east coast. Dues are $15 per year which includes a badge and monthly newsletter. Your mail label indicates your call followed by when your dues are due. Dues can be sent to the treasurer Your mail label indicates your call followed by when it is time to renew your dues. Dues can be sent to the treasurer as listed under the banner on the front page. If you have material you would like in the newsletter please send it to Bill WA6QYR at 247 Rebel Road Ridgecrest, CA 93555, bburns@ridgecrest.ca.us, or phone 760-375-8566. The newsletter is generated about the 15th of the month and put into the mail at least the week prior to the meeting. This is your newsletter. SBMS Newsletter material can be copied as long as SBMS is identified as source.
San Bernardino Microwave Society newsletter
247 Rebel Road
Ridgecrest, CA 93555
USA