4T1SIX Peru Six Meter DXpedition
April 4 thru April 12 2001 N6XQ & XE2EED
otra 4T1SIX & OA4O Radio Club Peruano web page
ALL CARDS FOR 4T1SIX GO TO OA4DJW ONLY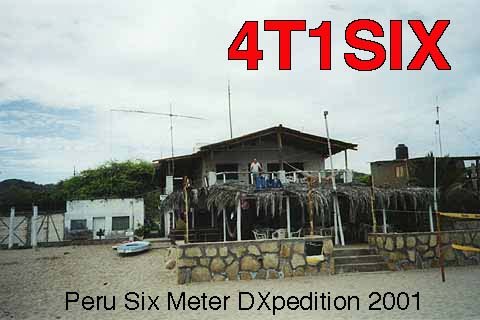 DXpedition Pictures:
RealAudio file from YV1DIG of OA4B/b
---
Daily updates:

updated April 14, 2001

LOG starting 4/11/01

k2rth, kwsw or k4sn, ve9aa, nj2f, n4gfo, k4lq, n3ztz, k4zoo, k1tol,w1tds, k0ff, w4ov, k4qi, k4vud,w4dr, n3ii, wa4lox, k4jaf, w3btx, kd4vry, kg4egv,k0az or n0az,wb3ljk, k1ms, lu2ww, k6zq, w1jjm, ka1a, ac4to, k4mqg, w3ep, k2hzn, k1ms, w4dxd, w4dr, wz1v, ac4to, w4tnv.

The OA,s put on a BBQ for us at the radio club last night until 1 am. The national beverage is Pisco....It is the equivalent of Mexican Tequila. What a great bunch of guys they are..we had a blast..

LOG starting 0051 12 april 01

kp4eit, xe1bef, xe1kk, k1dam, w1ra, ve2zp, ve3kkl, xe1un, np3ir, w1rma, k0gun or k9gun..cant read writing, alive, k1tol, aa2dr, n1rz, ve9aa, p49mr, ve1yx, k1gpj, k2qe, w1ra, wa2bpe, xe1d, wa3six, k3jaw, n3db, aj3k, kiteo, k3mld, n3pxu, k1ms, n2lt, w1aim, 8p9hw, wz1v, aa6yq, k1mu?, w1tgs, w2yr

a lot of the signals were 51, 52, 53...no beacons heard

73 Jack y roman

OK, Here's the last of the Q's:

April 12 starting 1700Z

w3xo/5, k0az, wa5uud, kr5e, k5cm, w5ozi, k4uaf, n4da, n5jhv, k5hv, kd5hpt, w5afd, k4sn, kc5oao, wb5ywi,n4is, kf4ctt, k4jaf, nn4x, wa5iyx, k9huy, k4pi, w4um, w4wta, w4ir, n5hyv, w5eu, kd4k, n4vhf,k2oy, wd4rco, n4lxb, w6xa, kq4pi, k9hmb, kd4esv, ae4ro, n4ndr, k4mz, w4yju,

1800Z

k4dy, k5xx, zf1dc, w3btx, aa5xe, kq0q, ke4isn, kd4vrz, w4udh, xe1ajy, k4to, v32pc, wa5rt, wa0kbz, nw5e, w4jqt, n4xd, k0etc, k5yy, k5tn, kf4tyb, n3dmo, k4ig, w4ttt, k4rwp, w4tj, w2bzy, wd5k, ws4w, w7qf, k5soh, w3uum, wb4mle, w4wrl, kb0pe, w5bk, w5un, w3ekt, w5lua, kb0pe, k5vh, km0a

1900Z w3vz, ku4wd, wa5jci, wa4oyh, lu6dlb, n6zz?, k5cm, lu1dma, ku4uw, k5ab, wa5olt, k4ar, wa5ufh, wb5xx, w4gf, kk1b, lu3dca,

2000Z w4wrl, lu1dx, lu2es, lu8ahw, cx1ddo,

2139Z ah8a

0127Z lu4dmf, lu2dpw, lw3ex, k8tqk, lu6dts, lu8ehr, lu2do, lw5dx, lu4dmx, lu8ahw, lu2eg, ys1rr

0200Z ti5kd, ti2cda/8, hp2cwb, ti4dj, wp4kjj, wp4lny, ti5kd, lu2do, kp4eit, lu2eeq, ti5bx, ti2alf, lu9ftc, ys1ag

The logs for QSO's for the period while we were at Pt Sal near the Ecuador border 6,7,8 April are in the possession of the QSL manager, Pablo OA4DJW. We will try to get that info to be put up here.

73 Jack N6XQ

Logger spots & emails from the trip:

April 13, 2001

0133 13 Apr 2001 4T1SIX 50110.0 LUS working LUs, signal S9

0208 13 Apr 2001 HP2CWB 50102.0 4T1SIX/4 59 FH17->FJ09

0220 13 Apr 2001 WP4KJJ 50102.0 4T1SIX/4

April 12, 2001

0054 12 Apr 2001 XE1KK 50102.1 4T1SIX CQ CQ

0058 12 Apr 2001 XE1KK 50102.0 4T1SIX/4 Working W1s

0107 12 Apr 2001 W1RA 50102.0 4T1SIX ssb clg cq >fn41

0147 12 Apr 2001 W1RA 50102.0 4T1SIX/4 clg cq

1733 12 Apr 2001 K0FF-@ 50102.0 4T1SIX into Midwest

1744 12 Apr 2001 W4UM 50102.0 4T1SIX/4L 59+ FH17>EL96

1751 12 Apr 2001 K1TOL 50035.0 HC8GR/B weak..also 4t1six .102

1757 12 Apr 2001 AE4RO 50102.0 4T1SIX/4 59 into el97

1801 12 Apr 2001 N4NDR-@ 50102.0 4T1SIX/4

1806 12 Apr 2001 K5XX-@ 50102.0 4T1SIX/4 gud 55 into EM21

1823 12 Apr 2001 WA0KBZ-@ 50102.0 4T1SIX/4 55 into em48

1827 12 Apr 2001 KQ0Q-@ 50102.0 4T1SIX EL96 5x1 indoor loop

1828 12 Apr 2001 XE1KK 50102.0 4T1SIX/4 Big signal! Last day!

1829 12 Apr 2001 OA4DJW-@ 50102.0 4T1SIX/4

1830 12 Apr 2001 N4XD 50101.9 4T1SIX/4 into fm05 solid!

1850 12 Apr 2001 N3II 50102.0 4T1SIX/4 SSB INTO FM19

1932 12 Apr 2001 K5AB 50102.0 4T1SIX QSL VIA: OA4DJW. Op: Jack.

1933 12 Apr 2001 K5XX 50102.0 4T1SIX/4 still strg into EM21

1951 12 Apr 2001 W4GF 50102.0 4T1SIX/4 CQ

Apr12 18:09 OA4A/b 50.036 5x8 de k4mz em70

Apr12 18:02 4T1SIX/4 50.102 5x8 de k4mz em70

Apr12 17:59 4T1SIX .102 into EL97 de AE4RO

Apr12 17:59 4t1six/4 57 #49 yippie 50.102 de kd4esv el87

Apr12 17:33 de N5JHV just wrked 4T1SIX .102 SSB 5/5

Apr12 17:32 4T1SIX wrked .102 de k5cm em25

Apr12 17:32 4T1SIX 57 50.102 de W5OZI

Apr12 17:31 de W3XO/5 4T1SIX 5x7 102

Apr12 17:26 de W3XO/5 EM00 OA4B/B 539 036.5
---
Hola
I sent a lengthy e-mail yesterday and it didn¥t make it through. I will send several shorter ones. First...We are operating from the hotel with the Zepp hanging out the window. After the first batch of QSOs we extended it out about 7 feet and the swr is better. The hotel is Britanica and the number is 2242006.Room 612. I believe the country and city code is 51 1.
We need to leave for the airport at 12pm. That means we will tear down around 0400Z today. I hope we have a good opening in the next 12 hours.
73 JACK Y ROMAN
---
Jack & Roman are back in Lima and on the air
from oh2aq:
XE1KK 50102.1 4T1SIX CQ CQ 0054 12 Apr 2001
XE1KK 50102.0 4T1SIX/4 Working W1s 0058 12 Apr 2001
W1RA 50102.0 4T1SIX ssb clg cq >fn41 0107 12 Apr 2001
W1RA 50102.0 4T1SIX/4 clg cq 0147 12 Apr 2001
Daily (Zulu time) Updates:
April 11,.2001
0248 11 Apr YV1DIG 50036.0 OA4B/B 549 >fk60
0323 11 Apr HP2CWB 50036.0 OA4B INTO FJ09
18:51 Apr 11 oa4 bcn here now de k3mld
1920z 11 Apr AC4TO gearing OA4B/b in Florida (28.885)
1942z 11 Apr AC4TO 50036.0 OA4B/B 579 into EM70 HC3AP on too
1946z Apr11 OA beacon under HC8 in FM05 S1 N4XD
1946z Apr11 OA4B/B ALSO IN >FM08
K4VUD 50106.0 4T1SIX 53 in FL JackOA4DJW 2028 11 Apr 2001
WA4LOX 50106.0 4T1SIX/4 2029 11 Apr 2001
N4GFO 50106.1 4T1SIX/4 Jack in FH17 Lima 2032 11 Apr 2001
K4MQG 50102.0 4T1SIX/4 2040 11 Apr 2001
VE9AA 50106.0 4T1SIX/4 tu fer new 1 Jack!!! 2049 11 Apr 2001
plus:
an email from Jack & Roman:
Date: Tue, 10 Apr 2001 21:02:56 -0700 (PDT)
From: Henry Jack <n6xq@yahoo.com>
Subject: Hola Amigos
Hola, We are in Cuzco now. Yesterday we searched for a hotel with a good shot to the N hemisphere. We had to settle for the central city and the takeoff was about 7 to 10 degrees. The city is in a big bowl. The hotel only used the 1st and 2nd floors. The 3rd and 4th were all tore up for renovations. The hotel let me set up on the 4th floor in an unused office but no real access to the roof. I found a couple of pieces of bamboo and taped them together and managed to get the Zepp up in the clear. i set the equipment up and had awful noise 20 over. manipulating the antenna only helped a bit. I operated for awhile and got disgusted with the noise and tore down.
Today we left at 5:30am to take the train to Machupicchu. It is an awesome place. Had the HT but no real time to try it out. It was a light rain most of the day there. We just got back and had a great steak dinner for less than 3 US$.Cuzco is a really neat place at about 11000 feet. Not great for ham radio though. This is the first chance I had to get to the internet since we arrived. I hope we haven't disappointed too many people.
Tomorrow we are flying back to Lima. The hotel has a great takeoff to the north as I worked the Corbins in ZF land no sweat with the HT. It is noisy also but will give 6 another try from there with the 706. No real room to set the yagi up. If people will e-mail me of beacon reception times I can plan to be on at those times.
The good news is that a few of the guys in Lima are hyped up to work at 6. Pablo OA4DJW and Manuel OA4AHW have spent quite a bit of time with us and are really interested in six. They operate primarily out of club station with a TS690 and the beacon dipole. They have a 5 element yagi that they are renovating. The bad news is that when I put my 706 on the beacon antenna the noise level was S7. Lima gets 0 inches of rain a year. Thats right none. It's a desert. As a result the poles are pretty noisy. All of the flat roofs in Lima that I have been on have no provision for drainage so I hope they don't get any rain. Lima has about 4 times the population of Santiago but much less air pollution. Driving is something else. A horn is mandatory. I timed it as an experiment to see how long it would be before I did not hear a horn. 1 second is the result. The horns are always being honked. When traffic is light, the result is still 1 second, but the horns are a little more distant.
Back to 6 meters, The unemployment is very high here and the hams have mostly antiquated equipment. A 706 if bought in the store here is about 1800 US$. The import duty is very high. I am selling my 706G to one of the club members when I leave. He is upgrading from a regular 706. He is interested in 6 but a building was put up next to him blocking his path. Hopefully his old 706 will go to a 6 meter guy.
Roman and I are having a great time. Hopefully we can add more Q's before we leave.
73 4T1SIX aka N6XQ/XE2EED
---
April 10, 2001
Jack and Roman seemed to have disappeared. They were supposed to get on a 4 AM flight from Lima (we think). "Monday morning we fly to Cuzco and will adjust to altitude and go to Machupicchu on Tuesday and Wednesday. Fly back to Lima on Thursday and back to the US early Friday morning". I assume they will try and get on the air whenever they can from Peru.
Mean while, back on the band:
0300 10 Apr HL1IGF 50036.0 OA4B/B
0245 10 Apr K5AB 50036.3 OA4B Lima. BEACON into EM10.
---
April 9, 2001
0015 09 Apr K2RTH 50036.0 OA4B/B 599>EL95TQ CP/OA?? .110
Apr09 00:28 de W3XO/5 OA4B/b now up to 579
Apr 9 0015z K2RTH 50036.0 OA4B/B 599>EL95TQ CP/OA?? .110
Apr09 02:40 OA4B/bcn 579 in EK53 de Andy YS1AG
Apr 09 02:34 Sorry all packed up...leaving at 4am to go to the airport again..glad to hear the beacon is wrking well..I will try with the HT from the roof on 110 de 4T1SIX
0208 09 Apr WP4KJJ 50036.0 OA4B/B 55 into fk68
0207 09 Apr ZF1DC 50036.0 OA4B/B 59 for 2 hours
Apr09 02:46 4t1six now on .110 2w into zep he is about 4 s-units below OA4/B but de zf1dc
Apr 09 03:23 asked about grid but he was unsure. Said all he knew for sure was he is in Lima
---
April 8, 2001
Conditions are pretty sparse so far today so here's all we have seen or heard:
Apr 08 04:44 ce0y 599 & oa4b/b still 579 hr de ys1rr
Apr08 17:29 OA4B/B 50.035 >FM08 VA. DE K4ZOO
Apr 8 1841z OA4B/b .036 into EL97 AE4RO
Apr 8 1903z W3EP 50035.0 OA4B/B >FN31
---
April 7, 2001
Conditions apparently weren't very good today for South America. At 0300Z Jack & Roman finally got a KH6 opening. Any further openigs will be posted here. We did have CE music into the southwest but no Peru propagation nor any beacons today. The OA4B/b beacon was heard in YS at around 0300z (8 April) and 4T1SIX worked Bernardo XE2HWB in LA Paz, Baja Sur DL44.
HP2CWB 50102.0 4T1SIX CQ SSB weak 41 1947?? 08 Apr.
---
April 6, 2001
Roman & Jack made it to Pt Sal ,Peru today.with OA4DJW AND OA4AHW . They showed up on 28.885 and finally got the 6 element six meter yagi up around 2230Z. So far they have worked into XE1KK, HP2CWB, KH6, TI, P4, CE, CE0Y. The OA4B/b is being heard as well by those stations and some in North America. We don't have the logs but info here is taken from clusters and the 50 MHz prop logger. They plan to be very active from this location over the weekend.
These are OH2AQ spots so far form Jack & Roman:
OA4DKC 50110.0 4T1SIX/4 Testing Equipment pls Help 2209 05 Apr 2001
OA4AHW-@ 50110.0 4T1SIX 6 m operation from Peru 6 to 80545 06 Apr 2001
EH8BPX-@ 50000.0 4T1SIX sorry 2230 06 Apr 2001
XE1KK 50109.9 4T1SIX BIG signal! 0217 07 Apr 2001
XE1KK 50102.0 4T1SIX They just QSY here! 0225 07 Apr 2001
HP2CWB 50102.0 4T1SIX 53 INTO FJ09 0227 07 Apr 2001
XE1KK 50110.0 4T1SIX Back to this feq... 0243 07 Apr 2001
LU8MB 50110.0 4T1SIX 51.b/s 0249 07 Apr 2001
KH6SX-@ 50110.0 4T1SIX 53 into Honolulu 0304 07 Apr 2001
---
April 5, 2001
Date: Thu, 5 Apr 2001 12:30:00 -0700 (PDT)
hola
We are going to the beach south of <lima this afternoon to play a little 6 meter DX. Will only have the omni up. Tomorrow we are going to fly to <pt Salei96..with OA4DJW AND OA4AHW. We will be there until Sunday <morning. This place is on the beach near the Ecuadorian border. Will have the yagi up there. Transportation and time is a big problem here. Sunday is a mandatory vote day in <peru. <lots of people traveling. <if they don¥t vote, they get fined.. great way of getting people to vote ???????
<monday morning we fly to Cuzco and will adjust to altitude and go to Machupicchu on Tuesday and Wednesday. Fly back to Lima on Thursday and back to the US early Friday morning. Sorry we will only have the vertical omni up during the Cuzco and <machupicchu trip. The best chance to get us is Saturday while we are at Pt Sal.
The OA4B beacon is on the air on 50.036 into a horiz dipole oriented about 030/210 degrees max rad up about 50 feet. <it is only putting out 5 Watts. Roman says hello.
Adios Jack
---
April 04, 2001
I (N6CA) just returned form great 3G0Z trip. We really had fun. Jack & Roman are in Peru now. Here's their first email from Peru:
hola,
this spanish keyboard is hard to use. welcome home... pablo and manuel picked us up at the airport at 3 am wow didicated guys.... they gave us a tour of the city today bigger but less polution than santiago... we were testing the station at oa4o and heard arliss on so got a live test.. they are using 690 and a dipole the preamp is dead but the linenoise is bad it doesn¥t matter. we may go to point sal by bus thursday or friday this place is very close to ecuador. we may use the call 4t1six
hasta luego jack roman
---
Peru, OA. Jack N6XQ, writes; Peru 6 Meter Expedition. Following the expedition to CE0Z, Roman, XE2EED, and Jack, N6XQ will be traveling to Peru. They will operate 6 meters from various locations from 4 April thru 12 April. A concentrated effort will be made the weekend of 6,7,and 8 April. They will operate under their own calls portable OA. Updates to their schedule will be posted at www.ham-radio.com/oa/oa.html While in Lima, they will meet with fellow 6 meter operator Pablo, OA4DJW. They will give Pablo a 6 meter beacon for "Radio Club Peruano", which Pablo will activate temporarily from his home QTH. The beacon will run 20 Watts on 50.036 with the call OA4B. QSL to Roman and Jack to their respective call book addresses.